Notre Dame Business Magazine Spring 2013
June 2013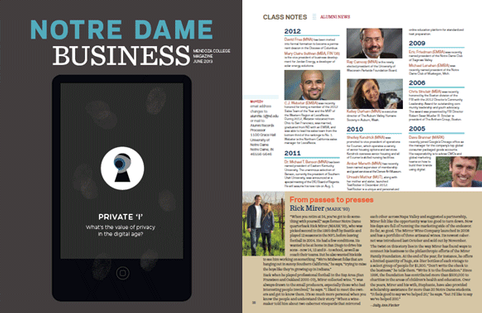 "The twist on this story lies in the way Mirer has found ways to connect his business to the philanthropic efforts of the Mirer Family Foundation. At the end of the year, for instance, he offers a limited quantity of huge, six-liter bottles of each vintage to a select group of people for $1,500. "Don't write the check to the business," he tells them. "Write it to the foundation." Since 1996, the foundation has contributed more than $500,000 to charities in the areas of children's health and education.
Over the years, Mirer and his wife, Stephanie, have also provided scholarship assistance for more than 20 Notre Dame students. "It feels good to say we've helped 20," he says. "but I'd like to say we've helped 200."



Full PDF available at Notre Dame Business Magazine June 2013 (5.5 MB)

.