Our Story
The Mirror Wine Company story begins with two cabernet vineyards in St. Helena that "mirror" each other across Napa valley. The western half of the two vineyards is just off Highway 29. The eastern half perched above the Silverado Trail. Rob Lawson used this combination of great fruit sources to create our inaugural 2005 Mirror Napa Valley Cabernet Sauvignon.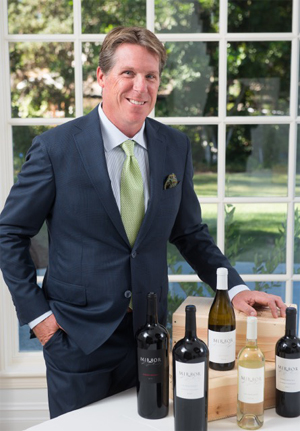 Rick Mirer
Since our launch in 2008, we have released eight vintages of Cabernet Sauvignon. In 2010 we released our second varietal, Mirror Napa Valley Sauvignon Blanc. During the fall of 2012, a third wine was introduced, 2009 Mirror Howell Mountain Cabernet Sauvignon. This Cabernet from the Cimarossa Vineyard on top of famed Howell Mountain has been available to our mailing list only. During summer 2014 we will release our second white varietal, the 2012 Mirror Sonoma Coast Chardonnay. Like our Howell Mountain Cabernet this Chardonnay will only be available to members on our ever growing mailing list.
As an entrepreneur, I have collaborated with winemaker Rob Lawson and his philosophy to take a humble approach to making the best wines possible. The goal has been to over deliver at every stage. Forget the hype, the glitzy style and the exaggerated price, Mirror Napa Valley focuses on representing something spectacular yet subtle. We are proud to say that every vintage of every wine we have released have sold out.
Our Mirror (mir-ər) story is constantly evolving. The Mirer Family Foundation has continued to grow with the help of various special wine promotions. Helping children's charities tied to health and education has always been the focus of the foundation. Our reach is expanding every day and Mirror wines are a big part of helping the foundation grow.
The Mirror Wine Company will continue to build on the core philosophy, to be a reflection and a true representation of artisanal Napa Valley wines that are a delight to all!
Sincerely,


Rick Mirer